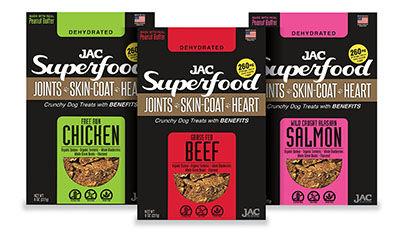 JAC Superfood (jacpetnutrition.com) Treats feature fresh salmon, beef or chicken in combination with five superfood ingredients: organic quinoa, organic turmeric, whole blueberries, whole green beans and flaxseed. The treats are laboratory tested for protein, fat, fiber, moisture, ash, vitamins, minerals, and omega 3 and 6 fatty acids. The animal proteins used are hormone-, antibiotic- and cage-free, grass fed, wild caught and responsibly sourced. The treats are made in the US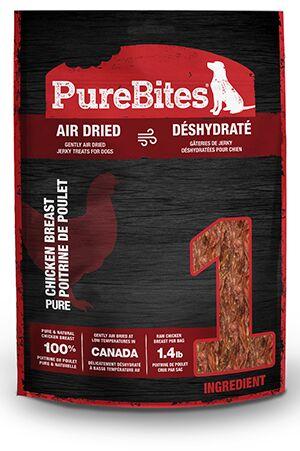 PureBites (purebites.com) Gently Air Dried Jerky for dogs is made using a delicate air drying process at low temperatures to preserve its fresh raw whole food. PureBites air-drying process can take up to 14 hours to complete at temperatures that never exceed 194 degrees Fahrenheit. The process maintains the raw food's aroma, texture, nutrients and freshness. The treats are made with one or two ingredients and will be available in recyclable packaging.
NZ Natural's (nznaturalpetfood.com) WOOF and MEOW Lamb Green Tripe with Green Lipped Mussel Freeze-Dried Dog and Cat Treats include fresh, raw food that's put through a gentle freeze-drying process to protect its natural enzymes and nutrients. Made from grass-fed New Zealand Lamb with sustainably sourced New Zealand Green Lipped Mussels, the treats are a source of protein and easy to digest. The treats' natural enzymes, probiotics and prebiotics support digestion, gut health, muscle development, and healthy skin and coat.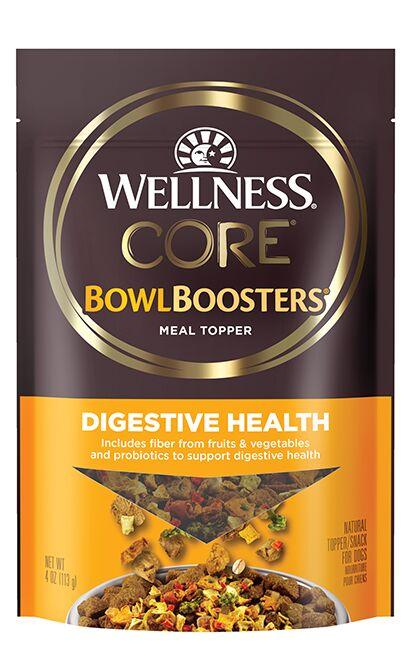 WellPet's (wellpet.com) Wellness CORE Bowl Boosters Digestive Health provides dogs with guaranteed levels of probiotics to help support healthy digestion. It can be sprinkled on top or mixed into a dog's food bowl. Bowl Booster Solutions are made with whole pieces of freeze-dried meat, along with fruits, vegetables and wholesome grains.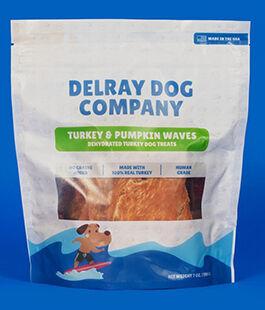 Delray Dog Company's (delraydog.co) Waves functional treats contain 100 percent US sourced meats and fruits. The treats are free from additives or preservatives and contain no soy, grain, gluten or added salt. Suitable for dogs of any size, the thin treats are available in six flavors: Beef and Blueberry, Beef and Cranberry, Chicken and Blueberry, Chicken and Pumpkin, Turkey and Blueberry, and Turkey and Pumpkin.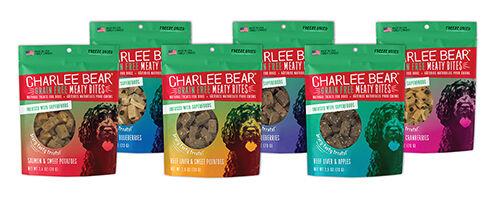 Charlee Bear's (charleebear.com) Grain Free Meaty Bites are raw freeze-dried meat treats infused with superfoods. Made in the US by a family-owned company, the natural treats do not contain any wheat, soy, corn, artificial colors, flavors or preservatives. The Meaty Bites are available in six flavors for dogs: Beef Liver & Apples, Beef Liver & Sweet Potatoes, Chicken & Blueberries, Chicken & Cranberries, Lamb & Blueberries, and Salmon & Sweet Potatoes.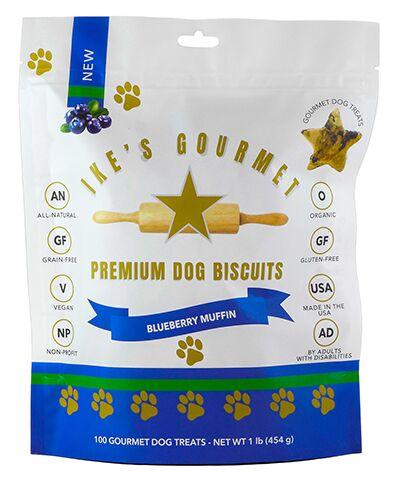 Ike's Gourmet (ikesgourmet.com) Blueberry Muffin Gourmet Dog Treats are all natural organic, vegan, grain- and gluten-free cookies. Ingredients include organic chickpea flour, organic coconut milk, organic dried wild blueberries, organic coconut oil and spring water. The treats are non-GMO and don't contain artificial flavors, colors or preservatives. The treats are hand-rolled and baked in small batches exclusively at the IKE Center, in Milwaukee, Wis., by adults with disabilities.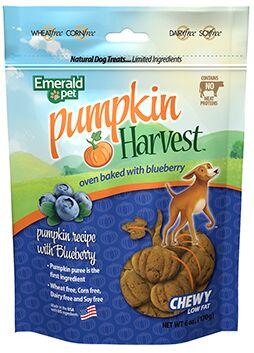 Emerald Pet Products (emeraldpet.com) Pumpkin Harvest oven baked, low-fat treats are made using pumpkin puree as the first ingredient and do not contain any meat, poultry or fish proteins. The line of plant-based, sustainable, Pumpkin Harvest chewy treats is available in three flavors. The pumpkin-shaped treats are made in the US with US ingredients and are wheat-, corn-. dairy-, and soy-free.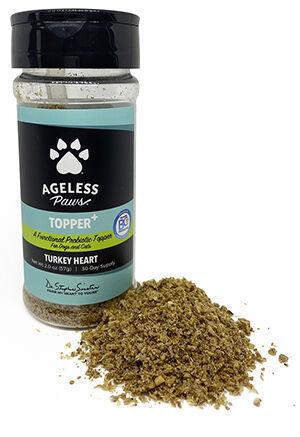 Ageless Paws' (agelesspaws.com) TOPPER is a meal topper line that features freeze-dried raw meat mixed with functional ingredients to provide dogs and cats with nutritional support. Available in three new recipes, Chicken Breast, Salmon and Turkey Heart, the line features two ingredients per recipe and provides dogs and cats with a source of probiotics. The recipes have zero by-products, fillers, preservatives or added sugars, and the line is 100 percent grain- and gluten-free.
Side By Side's (sidebysidepet.com) Rabbit Medallions for dogs and cats are freeze-dried, high-protein treats made with rabbit, duck, broccoli and cranberry. The medallions can be used as a treat, snack or reward. Made in the US, the treats contain no artificial flavors or synthetics.

Loving Pets' (lovingpetsproducts.com) Soft Chew Jerky Treats are slow cooked in the US The treats feature simple, high-quality ingredients, like real chicken, peanut butter, bacon, and cheddar cheese. Suitable for dogs of any size or age, the soft chew jerky treats are available in two shapes – Bones or Sticks.
.